1_Skilling-Rural-
Empowering Youth Through Vocational Skills Training
Empowering Youth through holistic training programs
1_Skilling-Rural-
Empowering Youth Through Vocational Skills Training
Empowering Youth through holistic training programs
Home_farmers
VOCATIONAL SKILLS TRAINING FOR YOUTH OF INDIA
Home_farmers
VOCATIONAL SKILLS TRAINING FOR YOUTH OF INDIA
India has the world's largest youth population with over 65% of the population under the working age of 35. Though educational achievements have risen sharply in recent years, gaining a foothold in the job market remains a dream for many young Indians, especially the underprivileged.
Millions of young people in rural and urban areas face serious problems of unemployment and underemployment. Among them is seen a high rate of school dropouts, close to 56%. Financial constraint has been singled out as the key reason for children dropping out from schools, besides poor quality of education, needing to support one's family at an early age, no proper knowledge about the job market and lack of job skills.
Solar and Electrical Training
It is said that the fears vanish & hopes awaken when we listen to the first chirping and watch the sun dawning, every morning. How about bringing some little pieces of sun's rays to every home, even at nights ! One such magic is created by our volunteers at the Art of Living Organisation, under SSRDP. The project named, 'Light A Home' is our limb where electricity is brought to  many remote parts of India using Solar System. While Gurudev imparts the highest Knowledge to the world to bring Light to people's lives, we at SSRDP, are electrifying India with Solar Power and are therefore, trying to bring forth, the little pieces of joy, make the smiles lengthy and the laughter visible.
Dispelling darkness through people's lives, in all manners, is our primary goal. The center provides training to rural youth on solar energy, which is getting traction from renewable energy market. It, further creates job opportunities for the skill sets, being trained at the center.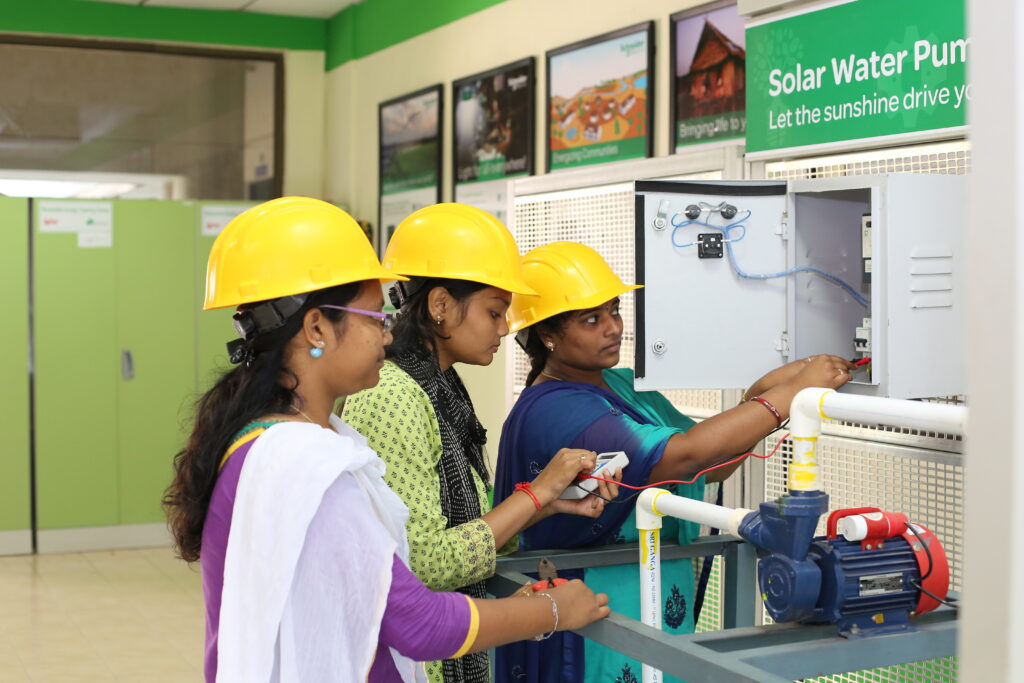 'Light A Home' is that special project of ours, where the Sevaks are absorbed for employment and maintenance of the solar infrastructure put up in villages.
The center has also been creating certified solar trainers to give 'solar training' to others.
Who knew if we simply get our wires crossed, it can easily cause a fire ! All our heartaches, headaches and the other funny hurdles in day-to-day life would have remained there forever, had we not have any electricity in the world !
So, the other vocational training that we talk here is Electrician Training. You are given the right skills here, which you will use while working as an electrician.
To give greenery its worth, we have built the center in lush green environment; students here, gradually, become sensitive towards Mother Nature.
(Bosch's Response to India's Development and Growth through Employability Enhancement)
SSRDP is running BOSCH's flagship 3-month program 'BRIDGE', a job-oriented program working towards eliminating unemployment, one youth at a time. It empowers unemployed youth with Basic Employability Skills such as soft skills, industry related skills and social skills, On-the-Job Training (OJT) and Job Placement Assistance. The programme prevents young ones from ending up in an unorganised sector where ability to develop a career is restricted due to a lack of appropriate skills training. As a result, it helps meet India's growing need for skilled labour across industries. More than 26,000 youth have been trained and placed by BOSCH.
Artisan Foundation Course
SSRDP has recently launched Artisan Foundation course in modern carpentry, in partnership with BOSCH. The aim is to produce high quality skilled and professionally certified artisans. It will significantly contribute in meeting current and rising demands of customers in Home and Office renovation and Modern Furniture Appliance Industry. The training is conducted by experts in German inspired curriculum with Bosch Power Tools. It is a unique combination of soft skills, technical skills and business skills, with certification of Bosch and NSDC. 
Foreign Language Training
SSRDP provides training in various foreign languages such as Spanish, French, German and Japanese. One receives hands on training in writing, reading, listening and speaking skills. In less than a year, 600+ people have successfully graduated with a new skill up their sleeves. Learning a foreign language can potentially boost brain power, improve memory, enhance multi-tasking abilities, sharpen the mind, enhance decision making, improve one's first language, increase networking skills and so on!
Mushroom Training & Production
SSRDP along with University of Agricultural Sciences, Bengaluru, has started oyster mushroom cultivation with agricultural waste using locally bioavailable paddy straw. Popularly known for their high nutritional value, its production and consumption are on the rise. This initiative not only utilises agricultural waste, but also generates employment and aids in malnutrition reduction. The substrate can, further, be used in composting resulting in optimum resource utilisation and environment sustainability. This is the only vegetable which has vitamin D in it ! You may not be able to or, may not like taking those long sunbaths and, would want a substitute for it. Right ? There you go!
They are also rich in protein, iron and fiber. Strong immunity is the new hype in society, today. You can have your immunity built strong with our naturally and organically cultivated mushrooms. They lower the cholesterol levels. They contribute in controlling hypertension, obesity and diabetes. You can be carefree to the core about your overall health, since the organic, oyster mushrooms are anti-inflammatory, anti-viral, anti-cancer, anti-bacterial and are also an amazing antioxidants. Do you still want a good reason to have them added in your routine diet ?
The one that you see in the picture, which is not less than a bouquet of flowers, weighs 554 grams. In addition, mushroom farming can help in empowering women across India, by making further contributions to the global economy.