1_Skilling-Rural-
Empowering youth through skill training and entrepreneurship
development program.
1_Skilling-Rural-
EMPOWERING THE RURAL YOUTH
Empowering youth through skill training and entrepreneurship development program.
Home_farmers
EMPOWERING THE RURAL YOUTH
SKILL DEVELOPMENT AND ENTREPRENEURSHIP PROJECTS
SSRDP works with a special focus on ethical leadership, life skills and technical capabilities that can empower individuals, particularly those from rural and disadvantaged backgrounds, towards sustainable livelihoods.
As a certified partner of National Skill Development Corporation (NSDC), SSRDP is authorized to provide NSDC certification for vocational and skill development trainings for around 2,000 job roles in 32 sectors. SSRDP offers its skill development and entrepreneurship programmes in partnership with Central and State Government departments, corporate groups, educational institutions and community-based organizations.
Select MAP LAYERS -> to enable various centers
 Supported by Supertron Electronics Pvt Ltd, SSRDP provides Mobile Repair Trainning Programme . Its open for Beginners where they learn theory & practicals on repairing including Components & Advanced Chip Repairing, Tracing,…
After the trainning, the students are encouraged to set up their own mobile repairing business
Eligibility: 10th Pass & Above
Duration : 36 Full Days
Supported by Schneider Electricals Pvt Ltd , this program makes a youth an Electrical & Solar Technician.  Both theory & practical knowledge of installation of Electrical wiring & Solar Panel installation & maintenance is covered.  During the training Job placement and/or Entrepreneur assistance is also provided
Eligibility: 10th Pass & Above
Duration : 2 Months
SSRDP has recently launched Artisan Foundation course in modern carpentry, in partnership with BOSCH. The aim is to produce high quality skilled and professionally certified artisans. It will significantly contribute in meeting current and rising demands of customers in Home and Office renovation and Modern Furniture Appliance Industry. The training is conducted by experts in German inspired curriculum with Bosch Power Tools. It is a unique combination of soft skills, technical skills and business skills, with certification of Bosch and NSDC. 
Eligibility : 10th Std
Duration :3/6 Months
(Bosch's Response to India's Development and Growth through Employability Enhancement)
SSRDP is running BOSCH's flagship 3-month program 'BRIDGE', a job-oriented program working towards eliminating unemployment, one youth at a time. It empowers unemployed youth with Basic Employability Skills such as soft skills, industry related skills and social skills, On-the-Job Training (OJT) and Job Placement Assistance. The programme prevents young ones from ending up in an unorganised sector where ability to develop a career is restricted due to a lack of appropriate skills training. As a result, it helps meet India's growing need for skilled labour across industries. More than 26,000 youth have been trained and placed by BOSCH.

Age : 18-25
Eligibility: 10th Std
Duration : 2 Months
SSRDP provides training in various foreign languages such as Spanish, French, German and Japanese. One receives hands on training in writing, reading, listening and speaking skills. In less than a year, 600+ people have successfully graduated with a new skill up their sleeves. Learning a foreign language can potentially boost brain power, improve memory, enhance multi-tasking abilities, sharpen the mind, enhance decision making, improve one's first language, increase networking skills and so on!
SSRDP provide various training programs for Beginners to Intermediate to establish themselves in the new Digital World
Basic Computers
Advanced Excel
Tally
3D Printing
Office Automation
Our practical training course on Advanced Industrial Automation can help you get started while ensuring 100% job placement assistance for freshers and industry beginners.
Duration : 36 Days    Eligibiilty : ITI/BE
This course introduces
Programmable Logic Controllers
Field level Instrumentation
SCADA/HMI Systems used for Industrial Automation.
Certification by NIELIT (Govt.of India) & Schneider Electric
Training by NIELIT Scientist
100% Placement Assistance
After the trainning I opened my own Mobile Repair Shop at my own place.
Learnt how to be entrepreneur in Electrician & Solar Installer batch. Currently employing 3 people with Rs 20 Lakh turnover.
Started Shree Cryogenic Engineering Works in Sakharwadi, Phaltan , Maharashtra,
Bosch Bridge Course taught me everything about how to work in corporate life.
Customer Relations,Tata Croma
Opened up my own mobile repair service & sales shop, after the trainning from SSRDP.
Owner - Mobile Repair Shop
Started company for solar projects. Now its a 3 Crore turnover company.
Sri Sri Solar Power Solutions
At The Art of Living, we not only create livelihoods and employment through skilling but also empower individuals through various life skills programs that provide valuable skills critical for their success.
Our students are ethical, dynamic, innovative with a spirit of service and volunteerism. Many of them lead their villages and communities towards progress and development
Mobilization of school/college dropouts, low-income/ unemployed people and those needing to be up-skilled.
Domain Skills Training in various job roles, in keeping with Government norms
Soft Skills Training, with knowledge of entrepreneurship, financial and digital literacy, workplace safety guidelines etc
Placement assistance or mentoring for self-employment
Skilling India – Skill and will development
Center of Excellence-Bengaluru
Industrial Automation Training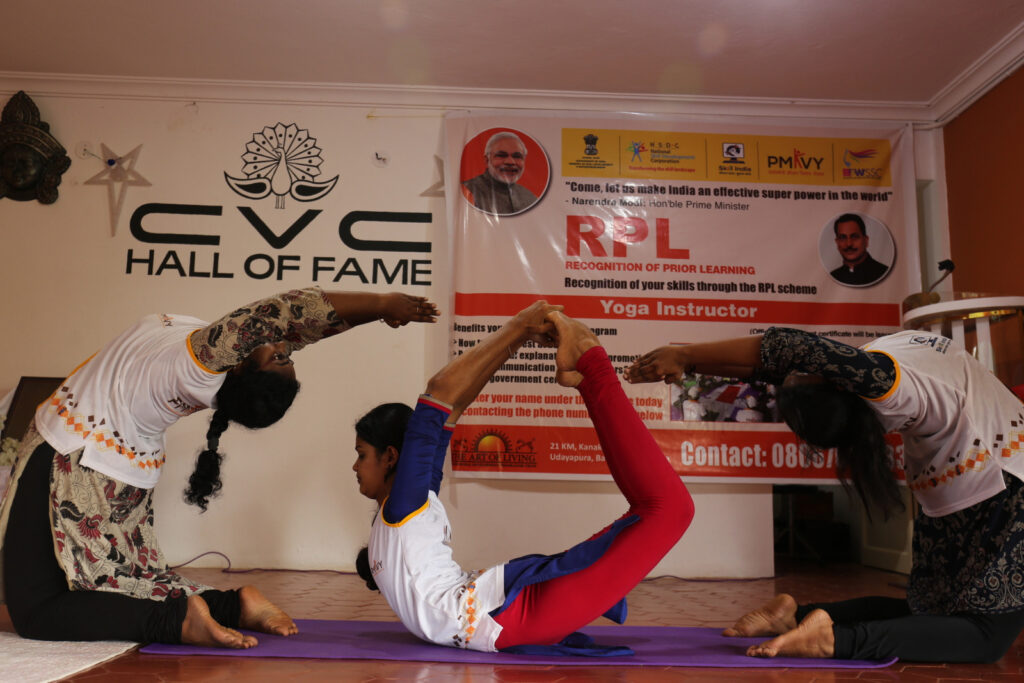 RECOGNITION OF PRIOR LEARNING (RPL)
SSRDP conducts RPL (Recognition of Prior Learning) certification in Yoga, Agriculture, Textile, Apparel, Retail, Tourism, Hospitality and other sectors for certifying the competencies of the unregulated workforce, providing recognition to informal learning (or learning through work) and giving it the same level of acceptance as formal education.
PRISONERS INMATE SKILL DEVELOPMENT PROGRAMME
SSRDP is currently running Prison Inmate Skill Development Programme in 16 jails across India, to inculcate self-worth in the prisoners, help them break out of self-destructive behavioural patterns and offer them channels for economic rehabilitation
We conduct online skill development trainings ,  Basic of Stock Marketing & Investing, International Language French,German…
Under the New National Educational Policy (NEP)-2020 ,  skill development is given prominent importance to school and college students. We offer Yoga , Organic Farming , Junior Software Developer one year ( 2 Semester ) Skill Trainning Modules to Degree Colleges students and provide NSDC Certificate.
Upgradation of Practial Solar & Electrical Labs of 23 Govt ITI's across India. This program is sponsored by Schneider Electric. Next year we would be upgrading 10 ITI's in Nepal.
SSRDP's Access to Employability Programme has already reached around 69,000 students in more than 200 colleges in 17 states, providing classes on interview skills, spoken English, personal grooming and soft skills, advanced computer training and job-specific technical trainings.
ENTREPRENEURSHIP DEVELOPMENT PROGRAMME (EDP)
With support from corporate partners, SSRDP provides Entrepreneurship Development Programme (EDP) to ensure that those who have completed skill trainings can also create proper business plans to run their own enterprises successfully. In many cases, this has been followed by access to micro-finance to help the aspiring entrepreneurs set up their own ventures.
SSRDP undertakes Skill Gap Surveys, to study skill gaps and submit reports for youth aspirations vis-a-vis availability of jobs in various industry sectors in different regions, thereby assisting the Government in getting accurate and authentic data for creating policies.
SSRDP provides career counselling to help youth to identify their aptitudes through psychometric assessment, making them aware of the wide range of opportunities available for skill development and guiding them towards the right career choices for training, employment and entrepreneurship