1_Skilling-Rural-
Empowering youth through skill training and entrepreneurship
development program.
1_Skilling-Rural-
EMPOWERING THE RURAL YOUTH
Empowering youth through skill training and entrepreneurship development program.
Home_farmers
EMPOWERING THE RURAL YOUTH
SKILL DEVELOPMENT AND ENTREPRENEURSHIP PROJECTS
SSRDP works with a special focus on ethical leadership, life skills and technical capabilities that can empower individuals, particularly those from rural and disadvantaged backgrounds, towards sustainable livelihoods.
As a certified partner of National Skill Development Corporation (NSDC), SSRDP is authorized to provide NSDC certification for vocational and skill development trainings for around 2,000 job roles in 32 sectors. SSRDP offers its skill development and entrepreneurship programmes in partnership with Central and State Government departments, corporate groups, educational institutions and community-based organizations.
At The Art of Living, we not only create livelihoods and employment through skilling but also empower individuals through various life skills programs that provide valuable skills critical for their success.
Our students are ethical, dynamic, innovative with a spirit of service and volunteerism. Many of them lead their villages and communities towards progress and development
Mobilization of school/college dropouts, low-income/ unemployed people and those needing to be up-skilled.
Domain Skills Training in various job roles, in keeping with Government norms
Soft Skills Training, with knowledge of entrepreneurship, financial and digital literacy, workplace safety guidelines etc
Placement assistance or mentoring for self-employment
Skilling India – Moving towards Skill and will development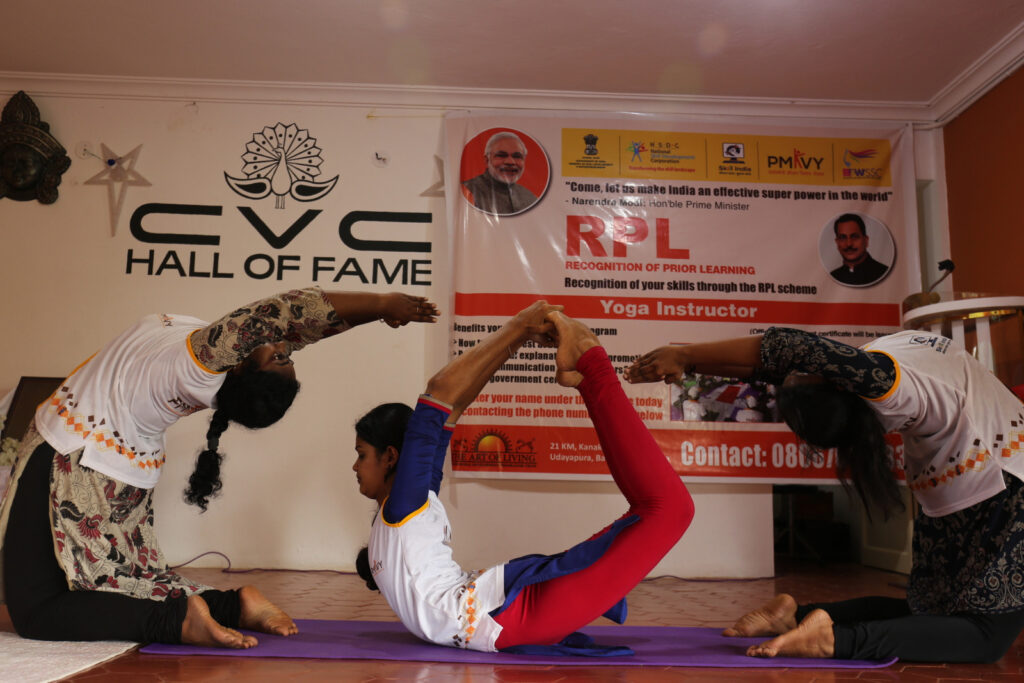 RECOGNITION OF PRIOR LEARNING (RPL)
SSRDP conducts RPL (Recognition of Prior Learning) certification in Yoga, Agriculture, Textile, Apparel, Retail, Tourism, Hospitality and other sectors for certifying the competencies of the unregulated workforce, providing recognition to informal learning (or learning through work) and giving it the same level of acceptance as formal education.
SSRDP's Access to Employability Programme has already reached around 69,000 students in more than 200 colleges in 17 states, providing classes on interview skills, spoken English, personal grooming and soft skills, advanced computer training and job-specific technical trainings.
ENTREPRENEURSHIP DEVELOPMENT PROGRAMME (EDP)
With support from corporate partners, SSRDP provides Entrepreneurship Development Programme (EDP) to ensure that those who have completed skill trainings can also create proper business plans to run their own enterprises successfully. In many cases, this has been followed by access to micro-finance to help the aspiring entrepreneurs set up their own ventures.
SSRDP undertakes Skill Gap Surveys, to study skill gaps and submit reports for youth aspirations vis-a-vis availability of jobs in various industry sectors in different regions, thereby assisting the Government in getting accurate and authentic data for creating policies.
SSRDP is working on the Van Dhan Vikas Yojana in partnership with the Government of India's Ministry of Tribal Affairs for the economic upliftment of tribal communities through livelihood trainings, self-help groups, manufacturing units and market linkages
SSRDP provides career counselling to help youth to identify their aptitudes through psychometric assessment, making them aware of the wide range of opportunities available for skill development and guiding them towards the right career choices for training, employment and entrepreneurship
PRISONERS INMATE SKILL DEVELOPMENT PROGRAMME
SSRDP is currently running Prison Inmate Skill Development Programme in 16 jails across India, to inculcate self-worth in the prisoners, help them break out of self-destructive behavioural patterns and offer them channels for economic rehabilitation